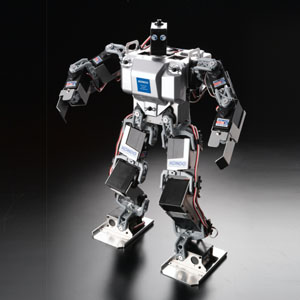 [20 بهمن 1390 ساعت 18:22]
ربات.Robot
> ربات کنترلی هوشمند Kondo KHR-2HV Kit
Details:

Joint: 17 (Neck 1, one arm 3x2 book and one leg 5x2 book)
Control board: RCB-3J Control Board with 24 PWM input/output and 3 analog input ports
Charger: AC100V charger
NiCad Battery: NiMH 10.8V 300 mAh battery
Serial Cable: USB
RC Servo Module: KRS-788HV ICS Digital Servos 10kg-cm, 0.14sec/60deg

Features:
The all new improved Kondo KHR-2HV Humanoid Robot Kit is presented to the robot fans. It is the 2nd version of KONDO KHR-1. The upgraded robot features more controls, gears, servos, and software, adding more tricks and skills to the memory. Designed with a well-balanced body with a bigger chest for a muscular look. With ultra light weight aluminum alloy frames for the body, Kondo KHR-2HV is faster and lighter. Adopts 17 adjustable joints, it is capable of doing back flips and cartwheels, and more human-like motions. It is easy to assemble and program Kondo KHR-2HV. Kondo introduced one of the best robots in Japan. Available in silver. Check out KHR-2HV Robot's video above for more information.


Width & Height:

7.1 x 13.4 inches (18 x 34cm)


What's in the Box:

2 X RCB-3J Control Board with 24 PWM input/output and 3 analog input ports
17 X KRS-788HV ICS Digital Servos 10kg/cm, 0.14sec/60deg
USB to Serial Cable
10.8V 300 mAH NiMH battery pack
AC Charger (100V)
Frames, brackets and all necessary hardware
Software CD
Total of 2400 steps can be programmed (80 motion patterns, each with 30 steps)
It can do back flips, cartwheels and even walk up stairs
Equipped with 17 DOF, upgradable to 24 Degrees of Freedom
Simple Heart-to-Heart3 interface to program your robot
Customize KHR-2HV to become your personal fighting champio